Videos
| Link | Player | Score | Sounds |
| --- | --- | --- | --- |
| YouTube | Ritxman | 10,000,983 | Fingernail taps |
| YouTube | StaLight | 10,000,979 | Fingertaps |
| YouTube | NIFLE | 10,000,951 | Fingertaps (Multi Screen Play) |
| YouTube | KONSOMEth | 10,000,931 | In-game clicks |
Trivia
Purgatorium was composed specifically for Arcaea.
"Purgatorium" in Japanese means "煉獄 (Rengoku)", which means "purgatory" in English.
Lyrics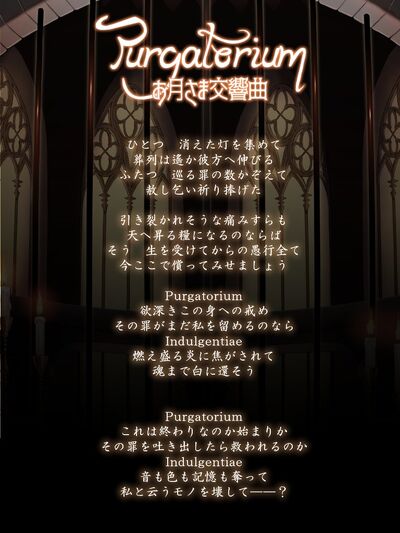 Lyrics' source can be found on Omiya Minase's Twitter or blog.
English translation by Releska
ひとつ  消えた灯を集めて
葬列は遙か彼方へ伸びる
ふたつ  巡る罪の数かぞえて
赦し乞い祈り捧げた

引き裂かれそうな痛みすらも
天へ昇る糧になるのならば [1]
そう  生を受けてからの愚行全て
今ここで償ってみせましょう

Purgatorium
欲深きこの身への戒め
その罪がまだ私を留めるのなら
Indulgentiae
燃え盛る炎に焦がされて
魂まで白に還そう

Purgatorium
これは終わりなのか始まりか
その罪を吐き出したら救われるのか
Indulgentiae
音も色も記憶も奪って
私と云うモノを壊して――?
hitotsu kieta tomoshibi wo atsumete
souretsu wa haruka kanata e nobiru
futatsu meguru tsumi no kazukazoete
yurushikoi inori sasageta

hikisakare sou na itami sura mo
sora e noboru kate ni naru no naraba
sou sei wo ukete kara no gukou subete
ima koko de tsugunatte misemashou

Purgatorium
yokubukaki kono mi e no imashime
sono tsumi ga mada watashi wo todomeru no nara
Indulgentiae
moesakaru honoo ni kogasarete
tamashii made shiro ni kaesou

Purgatorium
kore wa owari nano ka hajimari ka
sono tsumi wo hakidashitara sukuwareru no ka
Indulgentiae
oto mo iro mo kioku mo ubatte
watashi to iu mono wo kowashite--?
One. I gather up faded lamps.
The funeral procession climbs far into the distance.
Two. I count the number of cycling sins.
Begging for mercy, they offered up their prayers.

If even this splitting pain
will ascend to the heavens and become nourishment,
Then yes—Right here, right now,
Atone for all your follies made since birth.

Purgatorium.
This is punishment meted out to one filled with lust.
If those sins still limit me, then…
Indulgentiae.
Be burned by scorching flames.
Even your soul will return to whiteness.

Purgatorium.
Is this the end, or the beginning?
Can you be saved if you spit out all your sins?
Indulgentiae.
Will you take my sounds, colours, and memories
and destroy one such as I…?
[1] Omiya Minase's commentary on Twitter: In the "天へ昇る" sentence, 天 (normally read as "ten") is sung as "sora". In my lyrics, usually 蒼穹 (soukyuu) or 蒼空 (soukuu) are read as "sora", but this time it still ended up being the same kind of the thing again... *lol*
References